As Contributed to Lemay (MO) Post 4223;
On Sunday, 8 October 2017, Dan Schenstrom of Operation Heartland paid an advanced visit to Lemay Post 4223 as they partake of an ambitious journey the length of the Mississippi River. His Visit was to bring awareness of his mission.
As part of his trip, he presented the Post 4223 and Collinsville (IL) VFW Post 7678 with a painting of the US Flag with the initials of many Veterans who perished in action since 9-11. Representing Post 7678 accepting their Painting was Past Commander Ronald Knapp and Trustee Robert Bievenue. Representing Post 4223 was Past Commander Norman Franklin and Quartermaster Gary Johns. 12th District Junior Vice Commander Richard Sax stood for the District.
Please take the time to learn of this ambitious Mission they are on.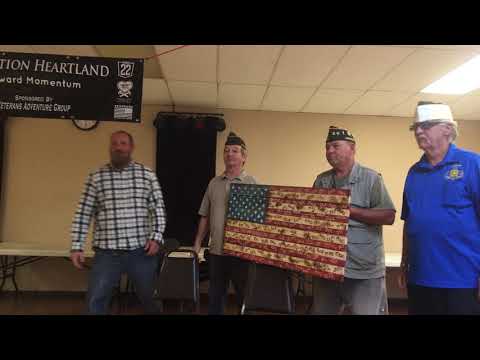 One may follow their progress by going to their Facebook Page and liking at
Operation-Heartland-Forward-Momentum
One of the Key organizations they are bannered under is Mission 22. You can learn more about them at
When we get word of their actual arrival in the St Louis Area, we will give ample announcement.
Received real bad news, Dan has injured his hand and they placed this mission on a Holding Pattern. They feel the completed to date segment was successful with all the contacts they made so far en route. Hopefully, when he is healed, we will receive information to the Continuation of his Journey.