On 3 May 2017, Commander Rich Sax and Quartermaster Weber of VFW Post 5468 Eureka MO went to Eureka / Pacific Elks 2644 to provide Donuts and 2 cases of water for the Flood Relief Efforts Team and to make a $200 donation to the Elks to pass through their National Elks Care Program. Dong this effectively doubles the amount of the donation which will be returned to Eureka / Pacific Elks for their Flood Relief Efforts.
After making the Donations (no pictures as minimal personnel were there), the Sax and Weber went down to the flood site to assess the damage of the Downtown Area. It showed that the efforts taken by the City, National Guard, and Coast Guard were very successful. Though there is likely some damage, the majority of the key businesses were spared.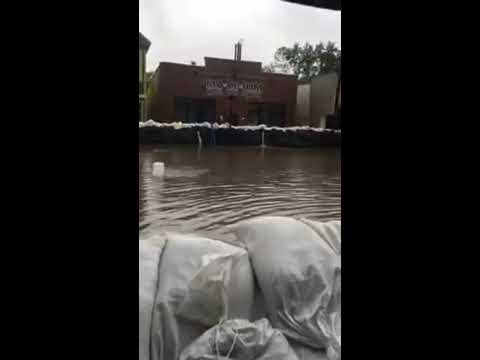 After our inspection, we were able to catch up with Eureka Mayor Kevin Coffee to discuss the situation and inform him of our Donation. As you can see in the picture, he was taking a well deserved rest. It is generally believed that without the efforts taken with this years flood, many of the key businesses would have pulled stakes and not return. This area had the same flooding in December 2015.
The City Leadership learned much from the 2015 flooding and during the rebuilding, they implemented many upgrades in the city infrastructures. In doing so, the Eureka Community Center (Meeting place of Post 5468) experienced very minimal damage, the Waste Water Treatment Facility stayed in operation (though flooded, the Pumps never stopped) and was able to prevent major back-flow in the system, AND, the Key Businesses stayed fairly dry.