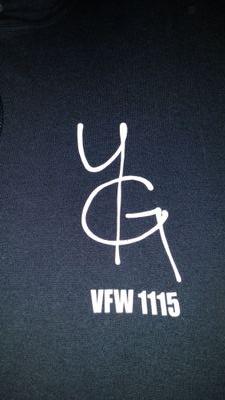 Post Commander Beth Rowley and American Legion Post 116 Commander Charlie Alvarez thank Chuck Haddock for speaking at a Veterans Benefits forum. 
The Young Guns, from Post 1115 in Hillsville, is a movement started by young veterans. If you are a post-Vietnam era veteran and would like to get involved with this outstanding group, please visit us at our Post and we'll get you started.  The future of the VFW is yours!
Our building is now non-smoking!
Welcome to Post 8947, located at 102 Mineral Ave, Mineral, VA 23117
(540) 894-5677
Bingo – Wednesday, Nov 18, doors open at 6PM
Next meeting is Thursday, Nov 19, at 6PM (this is one week early due to Thanksgiving)
Paladin Firearms Training, LLC, teaches gun safety and concealed weapons classes at our Post.  www.paladinfirearmstrainingllc.com
We are active in the Louisa County community, supporting the Boy Scouts, placing flags along Mineral Avenue on patriotic holidays, and conducting the VFW writing competitions for middle and high school students.
The Virginia Veterans of Foreign Wars has a rich tradition of serving veterans, military families and their local communities. We invite you to explore this website and our entire VFW Virginia network of sites to learn more about our organization.
If you are a veteran and would like to join the VFW, we invite you to fill out our Join the VFW form.
If you are already a member of the VFW, use the links below to find what you need quickly:
VFW Post 8947 has an active Auxiliary.  As of August 2015, the name changed from the Ladies Auxiliary to Auxiliary and will be open to male spouses, fathers, sons and grandsons of VFW members.
Latest News from the Department
Latest News from Posts in Virginia